Sunday, 3 Jan 10
Happy New Years dear Readers! I hope 2010 will be a fantastic year for you all!
The year started off promisingly for me. A kiss by the flickering lights of the fireworks-filled tv screen, champagne jelly and other good fare (including slow-roasted pork, served in Peking, Korean and traditional styles) in the company of some dear friends…watching the concert version of my favourite musical ever, Les Miserables, until 4 in the morning…waking up at 9 to begin to fulfil my first resolution of the year – Get fit. – by playing squash for 90 minutes.
Of course, it didn't help that afterwards, we went off and had KFC on the way home. Ah well. It was good while it lasted ;)
Perhaps my resolution would've been better maintained had I the ingredients for these apple-cinnamon muffins that I had whipped up one morning for my cousins. Moist, appley and with a lovely crumble-like topping, these would be a great breakfast or brunch or afternoon tea treat.
I will be off to New Zealand for a fortnight tomorrow, so it is unlikely I will be blogging much, as has been the case for much of the latter half of last year >_<;; It's odd – I have been cooking and baking, and even taking photos on occasion, but none have felt worthy of a blog recently, or I just haven't had the words. I'm hoping my muse comes back soon – until then, perhaps more photos, and less words from me?
What would you like to see on thewayitcrumbles in 2010?
2 Comments
Have a great time in New Zealand! I look forward to seeing some posts from there, and then whatever you can manage after that =)

Comment by mademoiselle délicieuse — January 4, 2010 @ 12:19 am
RSS feed for comments on this post.
Sorry, the comment form is closed at this time.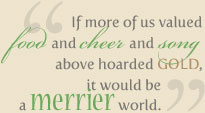 Previously
By Category
By Month
Search