Thursday, 16 Jul 15
Take me back, take me back…
So I did start this blog post over a year and a half ago and never posted it. A tough few weeks in the office left me daydreaming of holidays and photo-taking and writing for entirely non-academic/clinical purposes. So…better late than never?
After two jam-packed days in Kyoto in the forever ago that was 2013, we decided a change in pace was in order, and retired to the quiet little district of Arashiyama, about 20 minutes train-ride away, for a night at a traditional Japanese inn, or ryokan. Staying at the Hanaikada ryokan just off the Togetsukyo Bridge was undoubtedly the highlight of our trip, to the point that by the morning of our stay, we were determined that we would be coming back for our honeymoon. Or moving in permanently. Whichever one worked better.
Upon entering the ryokan, and removing our shoes awkwardly in the vestibule (removing and putting on footwear while standing gracefully was a skill neither of us quite mastered), we were greeted by friendly staff in yukata, and shown around the ryokan.  Once settled into our room, we were greeted with robin egg blue cups of green tea, and small plates of sweets. I believe these were warabi mochi, dusted with kinako (roast soybean flour), to which we could add as much dark caramel to our liking. The slight bitterness of the green tea cut through the sweetness, refreshing us after a long day.
After a brief wander down to the stores on the waterfront, selling all manner of delicate local sweets and pickles, we dressed in the yukata and tabi provided to us, and settled at the table for a feast. Traditionally served as part of the ryokan experience, kaiseki-ryori is part multi-course meal, part art-form, integrating local and seasonal specialities in a perfectly balanced dance of colour, texture, appearance, and taste.
A knock on the sliding door, and our gracious hostess entered the room, bringing with her two large trays. She deftly assembled a multitude of small plates and bowls, carefully angling each dish to best highlight its contents. A brief explanation (which, to be completely honest, I am unable to remember), occasionally a polite query as to whether we understood, and where we had come from, accompanied each 'course' of the meal, which started off with a sweetly acidic liqueur to whet the appetite.
Sakizuke (Amuse bouche)
Hassun – Second course
We marvelled at the presentation. A sprig of rice, its grains cunningly puffed arched gracefully over mackerel sushi. A prawn, fresh as can be, mirrored the crunchy texture, while the cunning persimmon bowl hid another treasure.
Futamono – the lidded course
Tsukune (chicken mince meatballs) in broth was the only meat dish through the course of the kaiseki. A light broth was slightly bitter with mitsuba (Japanese wild parsley), but we were more curious about the brightly coloured maple leaf which soaks the soup – we worked out later that this is a form of wheat gluten known as fu, which can be shaped and coloured, and is one speciality of the region.
Mukōzuke – sashimi course
Visually stunning, as well as astoundingly fresh, we savoured each piece of sashimi (tuna, white fish, shrimp) and eyed each others' side of the ice platter. Chopstick battles may have ensued.
Yakimono – the grilled course
The prawn was sweet, grilled in its shell, while fish was sandwiched between two slices of cedar wood.
Takiawase  – simmered course
Shiizakana – a substantial course
A hot pot had been set up earlier on in the meal, and we'd been instructed to leave it covered until the flame went out. When opened, the steam refreshed our already almost sated appetites with a delicate broth and gently cooked leeks and fish.
By this point, we were wondering just how many dishes had come out and how many were to come, both stuffed to the brim. The elegant calligraphic script of the menu didn't help, as we had not kept track of the courses as they came out! This course featured scallop sashimi in a mildly tart sauce.
The final set of savoury courses featured rice which perfectly matched the season, stirred through with wild mushrooms and chestnuts, while pickles made the perfect "chopstick rest" between bites.
Dessert was a light fruit sorbet, a refreshing burst of citrus across the tongue that had us scraping the indigo blue china ware despite our protestations of being too full.
After the many, many, many courses, we rolled to one side of the room, while the trays and bowls were taken away and our futons laid out. We hovered between the way too cold 3 degree Celsius chill of the autumn evening and the way too hot (for Tim) water of the outdoor private bath on the uppermost level of the ryokan, unable to decide whether to cook in the water or shiver in the breeze. We ended the night with the glorious view of the moonrise over the mountain partially hidden by the steam from the 43 degree bath and the fog of our breaths.
We, well, I, have a habit of waking up far too early for Tim's liking when on holidays. But with views like this as the sun rose over the river, I feel it was entirely worth it.
 So…there is quite a lot of news to update since I last blogged.
We actually went on a honeymoon…and periodically turn to each other and exclaim "We're married!" (as though we had forgotten in the past 4 months).
We also went to Japan (again) and to the Big Apple…so there is actually a huge back load of photos that need sorting, many meals to reminisce and thank-you cards that still need writing. Sigh. Better late than never.
Posted at 9:42 pm in Crumbs, Eating Out, Japan | Respond?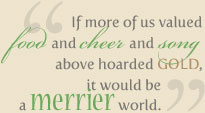 Previously
By Category
By Month
Search